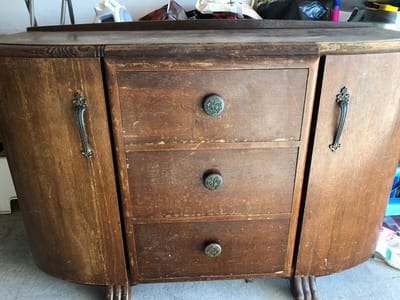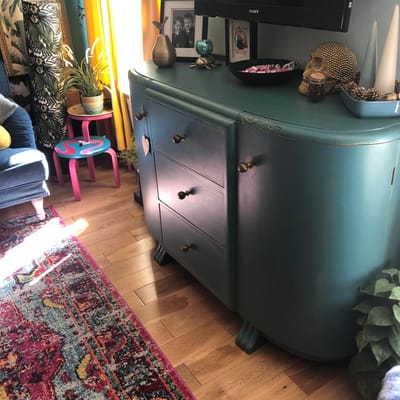 Hello, my name is Krystina and I am a furniture addict! I'm married with 3 lovely (most of the time) children. I spent half my life studying and working in retail... then I hit my 40's.
This is my story...
A few years ago I decided I needed a career change, 20 years of High Street Retail will make you want to chase your dreams! So I took the leap back to education and studied Interior Design - my teenage passion. This made me look hard at my own home which was full of 'make do' furniture ~ hand-me-downs, Ikea, Argos etc. Lots of flat pack blandness that were perfectly functional and, at the time, suited the rooms that I had decorated thoughtlessly on a whim. As I set to redesigning each room I had to think about the furnishings. The furniture that I had, as I said, were functional pieces but the flat pack look just wasn't doing it for me. However, I didn't want to rush out and buy more mass produced 'same old same old' furniture to replace everything that I already had, so I looked into ways I could change it up.
Paint Glorious Paint!
This worked for a few of my pieces but this venture all really started when I was redesigning my living room. It had more of a vintage, eclectic, boho vibe and my Black/Brown Ikea Besta really did not fit the bill but paint alone was not going to alter that - well not with my skill set at the time. Time for something new. I wanted something that was a little more unique. I had a vision in my head but I couldn't find anything I liked - or that was within my budget! I hit Facebook Marketplace and there she was. A beautiful but very tired vintage sideboard.
A big chunk of flaky dark brown varnished post war utility furniture. Filthy, trim falling off, drawers sticking - 70 odd years of hard living but she grabbed my attention. £20, 3 flights of stairs and a grumbling husband, she was mine - but no way was she coming into my home in that state. Too beautiful to just slap a bit of paint on I decided she was worthy of going the whole hog. I cleaned, I sanded, I took doors, hinges, handles off, shelves out, made repairs, cleaned again... now she was ready for her makeover. From start to finish she was A LOT of work but oh, that glorious finish. I was in love with her and I had fallen in love with the process.
I sourced a few more pieces for my home, one straight out of a barn, the other was pulled out of a 1950's kitchen. Again I set to striping right back and after successfully refinishing these I wanted to do more - but I only have so much room in my own home! So that is why I decided to find and rescue tired old furniture that was heading for landfill and build a small business around it. It wasn't quite the career change I planned when I studied Interior Design but I am so thankful that this is where my path has taken me.
The name? Well, these pieces of vintage furniture have been at the heart of their homes for many years. I think of my workshop as a halfway house before they find their new homes - Home HOUSE Home.
I had been skipping along quite happily for 9 moths buying and refinishing furniture when Covid reared its ugly head. During Lockdown #1 I merrily painted away, but with all the alone time ideas started forming in my head on how I could grow this little fledgling. Not for world domination or anything, just how could it progress and help spread the word on refinishing furniture the right way. I was really lucky when my paint brand of choice Cornish Milk Mineral Paints, also a family run small business, offered me the opportunity to become an 'at home' stockist. I then reached out to White Bunny Naturals. I was going to stock the paint I loved so why not stock the finishing wax I love as well?! They are a small artisan business that sells through craft markets and online so my becoming a stockist of their products is a step in growing their business too.
The next part of the story was all my lovely husbands idea. He offered me a vacant room on his business site to be able to showcase my furniture and display all the products. This is mainly because he thinks the car should be able to fit in to the garage (aka my workshop) but whatever his reasoning, it's a fantastic opportunity for me. Even with Lockdowns, I can at least offer a safe click & collect point.
So this is where my story is so far, as we swiftly approach Christmas 2020...
(Update, now approaching Christmas 2021 and I really need to update some of the text!)
I'm stocking the paint & finishing wax that I love, to help you save your own pieces from the fate of landfill; A showroom for my own refinished pieces that you can buy if DIY Painting isn't for you; AND this website so you can shop from the comfort of your armchair. There's the option to add delivery (I've tried to keep my packaging as eco-friendly as possible), or you can choose Click & Collect (by appointment). And whhheeeeennn restrictions aren't in place, you can pop in for a browse & a chat (limited opening times or by appointment because I work on furniture at home).
Any questions, info, advice - anything - drop me a message via the form, or social media (
Instagram
/
Facebook
) or WhatsApp, there are so may ways you can reach me so please do! I am always happy to help where I can.
Thank you for reading my story essay, I hope you feel you know me at least a little bit now ~ but I shall stop waffling and let you shop!!
Krystina Xxx