Cornish Milk Mineral Paint has been proudly manufactured by hand using the finest organic ingredients and uses real Cornish earth pigments to create our unique and distinctive colour palette.
Cornish Milk has a smaller carbon footprint compared to other paints, using only recycled materials to create all of our packaging. Our unique 'Milk' carton packaging is 100% Recyclable and Biodegradable.
Neither Cornish Milk's packaging or our unique mineral formula will cause any harm to our planet or users, as Cornish Milk Mineral Paint proudly contains no added VOC's*, no chemicals, no nasty toxins, non-irritant and best of all it is 100% vegan as our formula contains no milk or milk proteins... No cows have been harmed in the making of our paint line!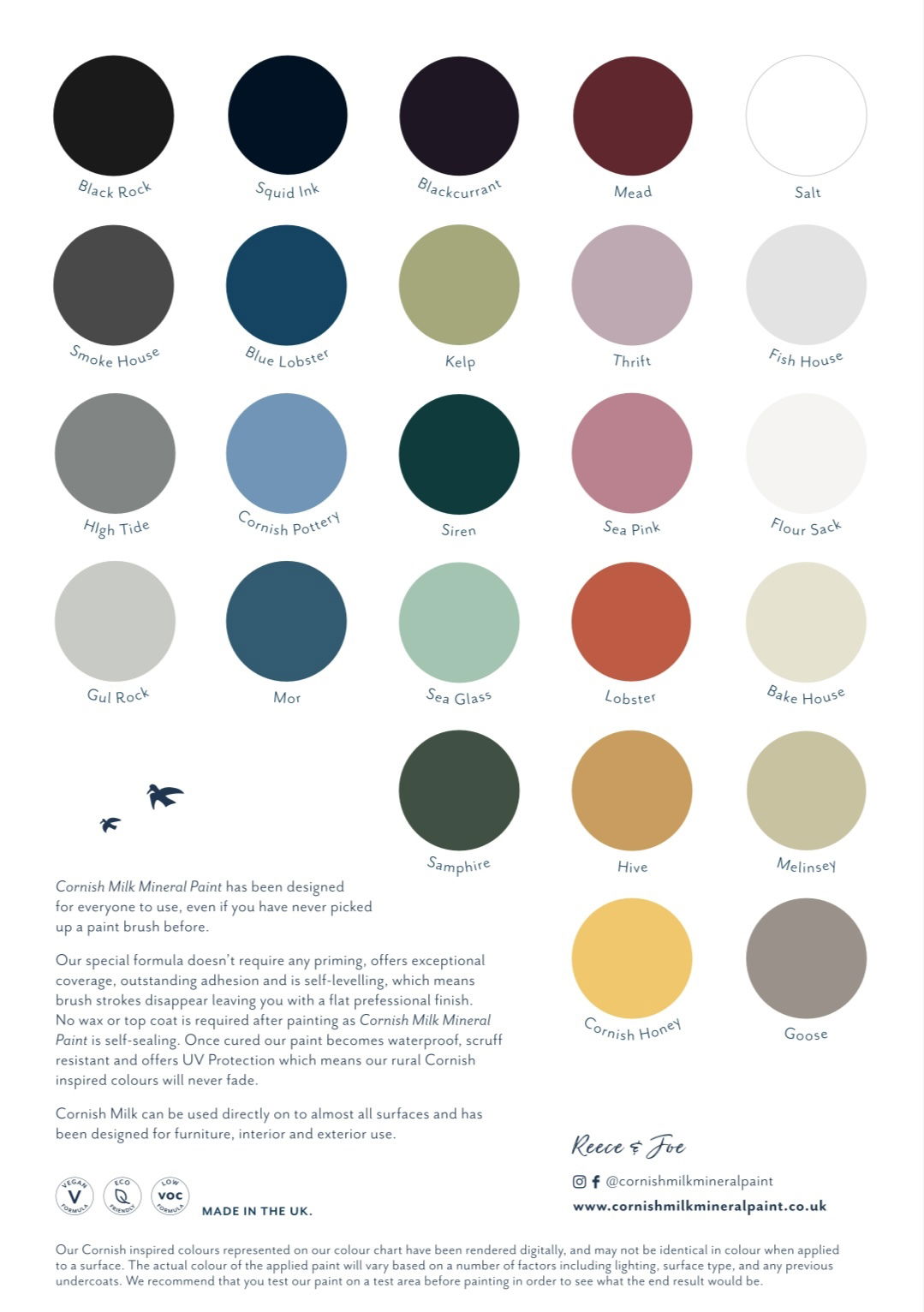 NEW MINERAL PAINT IMPROVEMENT/BENEFITS
New Ultra-durability, water, stain & scrub resistant top-coat, added into our premium mineral paint formula. No waxing or varnish required, unless for decorative finishes or for high traffic areas.
Super easy to use mineral paint, offering a smooth and ultra matt finish, with an added paint extender within the formula, giving our users more time to paint and touch up if required. Drying time in-between coats is one hour.
Environmentally-Friendly Mineral Paint, made with no added chemicals or toxins. We have stayed true to our eco-living ethos and kept Cornish Milk Earth friendly. Cornish Milk Mineral Paint is 100% water based.
Ultra-low VOC content, with only 9.0g per Litre. Cornish Milk is one of the lowest VOC decorative furniture paints on the UK market.
Vegan & Cruelty free. No cows or animals have been used or harmed in the making of our mineral paint.
All our Cornish colours are made with 100% real powdered earth pigments (No Synthetic dyes or stains have been used). Our pigments guarantee an even and flawless finish, which a richness of colour.
Our new formula resists heat of up to 80ºC, which makes Cornish Milk perfect for kitchen and fire surround transformations.
New maximum coverage technology for all your favourite Cornish Milk colours. No more extra coats or inconsistency coverage. Achieve maximum coverage with all our colours within a few coats of paint. Saving you time for more painting!
Exterior & Interior use Mineral Paint, with a new built in weather shield with enhanced UV Protection.
Extended shelf life of up to five years. Cornish Milk's new tins insures your mineral paint will be fresh to use every time you want to paint.
Our new Formula has been approved by our Official Cornish Milk Stockists.
Proudly manufactured by hand in the United Kingdom.
If what you are after is out of stock or not enough quantity, please do message me so that it can be added to my next order!
*VOC's are Volatile Organic Compounds which are a large group of chemicals that are found in many products we use to build and maintain our home including new furniture. Once these chemicals are in our homes, they are released or 'off-gas' into the indoor air that we breathe. That's another good reason to Rescue and Refinish pre-loved furniture rather than buy new ~ all the nasty VOC's are long gone!
**No primers needed but that doesn't get you off the hook for proper preparation! Always ensure your surface is thoroughly clean (not just clean looking) and that you do a light scuff sand (minimum) to provide a key for the paint to adhere to. This little nugget of info applies to ANY paint regardless of any 'no prep' tag lines!
*** Cornish Milk dries to a perfectly smooth matte finish. If you prefer a little sheen you can either buff after 48 hours OR you can use my favourite White Bunny Naturals Vegan Wood Wax (less elbow grease required). This is perfect if you want to leave some wood exposed on your Painted Furniture Projects.